The CEI Fellowship for Writers in Residence is a newly established award presented by the Central European Initiative in collaboration with the Slovene Writers' Association as part of the Vilenica Festival. The Fellowship seeks to encourage cross-border cooperation and promotion in the field of literature for young writers from Central European Initiative member states that are not members of the European Union. The Fellowship, which is endowed with a cash award of 5,000 EUR, is intended to be used for a three-month residence in any CEI member state of the candidate's choice. During this period, the author will work on the project he or she indicated in the application form.
The recipient of the CEI Fellowship for Writers in Residence 2014 is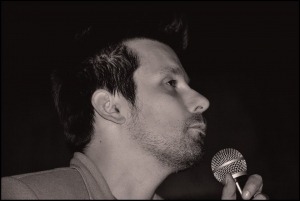 MIRKO BOŽIĆ from BiH
Mirko Božič was born in 1982 in Mostar, Bosnia and Herzegovina, where he also graduated in English and Croatian in at the University of Mostar. He writes poetry, prose, columns and essays. His poetry has been translated into English, German, Polish, Albanian, Spanish and Slovenian. His poems have been published in literary anthologies and numerous literary magazines in Bosnia and Herzegovina and abroad. He is the organizer of the first reading through Skype and video between Leipzig and Mostar in 2010, in which six authors from Mostar and Leipzig participated. He was the creator of the United Literary Front, a network for young authors in the Balkans.
From the laudation by International jury for the CEI Fellowship 2014:
"Mirko Božić's literary project is a unique reading of the history of his motherland written on the basis of uncommon material tightly related to his family and personal life.By metaphorically interweaving two tragic events, the loss of his mother and the loss of his motherland, the author constructs his unconventional and personal demythologization of the prewar (Bosnian and Herzegovinian) time and space. The literary encounters with his mother, family, exile and memories of his joyful youth spent in their joyful house that used to stand in the old town core of Mostar in the very quarter that the last war almost totally erased are set beneath the firmament doomed to witness a thorough collapse of the world – the disintegration of former Yugoslavia. The author has proven to be a persuasive chronicler of Europe's last slaughter. It was less than twenty years ago that former Yugoslavia and especially Bosnia, the country upon which Mirko Božič wishes to shed light in his new writing, awaited the end of the war. Clearly, one needs to distance oneself from one's own stories in order to transfigure them into great literature. The commendable time-related distance not only allows the author to interweave the basic story with side ones, but also gives his literature the necessary breadth by providing a touch of poetry to the memories described in his prose."
Patrizia Vascotto, president of the CEI jury