21st Vilenica International Literary Festival
6 – 10 September 2006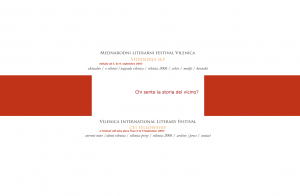 Vilenica 2006 organized by the Slovene Writers' Association and the Cultural Society Vilenica, was held from 6 to 10 September in Lipica, Hruševje, Vilenica, Štanjel, Ljubljana, Nova Gorica and Trieste while the Vilenica Pre-Opening Event took place a day before the official opening, on 5 September in Ljubljana and Trieste.
Established authors from Central Europe and beyond appeared at the literary readings which will be accompanied by a rich programme and accompanying events including round-table discussions, symposium, and book presentations to name but a few. The climax of the festival will be the presentation of the Vilenica 2006 Prize. At the Štanjel literary matinée, the Crystal Vilenica award was conferred on one of the authors featured in the Vilenica Almanac, while special attention was given to the culture of the Porabje region in Hungary where a Slovene minority lives.
At Vilenica 2006, a new project was launched. "Lesser-known literatures of Europe at Vilenica" is aimed at presenting those literary landscapes in Europe which have for various reasons remained in the shadow of bigger and better known traditions. This year, the focus was on Basque literature. A range of events will be organised so as to bring home the rich literary production of the Basque country to the Slovene and international public. On this occasion, the Anthology of Contemporary Basque Literature as the first book of a new collection of the Slovene Writers' Association entitled Vilenica Anthologies, was published.
Alongside the anthology, many other publications were published at the Vilenica 2006 festival.
At the 21st Vilenica International Literary Festival, the Central European Initiative, in collaboration with the Slovene Writers' Association, presented the CEI Fellowship for Writers In Residence, a newly established award for young writers from non-EU CEI Member States. The CEI was also the sponsor of the major event of the expert programme of Vilenica 2006, the CEI Round-Table entitled "Who can hear one's neighbour's story?"
In 2006, Vilenica's organizers, the Slovene Writers' Association and the Cultural Society Vilenica, have signed a new statute of the Vilenica International Literary Festival which has replaced the first one from 1986.
Our special thanks go to all Vilenica 2006 sponsors who have contributed to the realization of Vilenica 2006, granting financial and material support.