Publications of the Vilenica festival
Ffiniau aflonydd: An Anthology of Modern Welsh Literature
Vilenica Anthology series, Slovene Writers' Association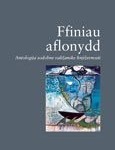 The Welsh literature and its fate are very similar to Slovenian in many ways. In Wales also,  Welsh was mostly spoken among rural population, the Welsh translation of the Bible was made only a few years after Slovenian one and the language itself has been the basis of national rebirth and self-confidence which began to strengthen in the 20th and 21st century. This year's Vilenica Anthology Ffiniau aflonydd –Alternations of Frontiers, reveals the richness of this literature which is written both in English and Welsh and represents its main authors.
The texts were translated by Miljana Cunta, Zdravko Duša, Marjan Strojan, Lara Simona Taufer in Veno Taufer.The anthology follows the visual image of the collection, which on the cover depicts representative works of visual artists for the selected literature. The fifth book of the Vilenica series is decorated by the Welsh painter Iwan Bala. Publication of the book was made possible for the Public Agency of the Republic of Slovenia for the Book, Wales Literature Exchange,Wales Arts International and Literature Across Frontiers.

The Vilenica Almanac
The central publication of the festival remains the comprehensive Vilenica Almanac, which features 22 authors from Central European and other countries. The texts are published in the original languages, in Slovene, and in English translations. A separate section is dedicated to the Vilenica Prize winner.
The Vilenica Almanac 2010, download
[
PDF 3.54 Mb
]
Programme booklet

In 2010 the publications were enriched with a programme booklet, which has proved most useful both during the festival and later – later especially as a collection of data and contacts.
Programme Booklet 2010, download [PDF 3.37 Mb]