The CEI Fellowship for Writers in Residence is a newly established award presented by the Central European Initiative in collaboration with the Slovene Writers' Association as part of the Vilenica Festival. The Fellowship seeks to encourage cross-border cooperation and promotion in the field of literature for young writers from Central European Initiative member states that are not members of the European Union. The Fellowship, which is endowed with a cash award of 5,000 EUR, is intended to be used for a three-month residence in any CEI member state of the candidate's choice. During this period, the author will work on the project he or she indicated in the application form.
The recipient of the CEI Fellowship for Writers in Residence 2010 is
MAJA HRGOVIĆ from Croatia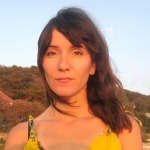 The journliast and author Maja Hrgović was born in 1980 in Split, Croatia. She graduated in Croatian and English language and literature at the Faculty of Philosophy in Zagreb. She was also a student at the Zagreb Centre for Women' Studies (Centar za ženske studije), where she studied theatre arts. She has been writing for the Croatian daily newspaper Novi listsince 2003, focusing mainly on cultural, social, and gender issues. Her work has been featured in many international journalistic publications, including the monograph issued by the Balkan Investigative Reporting Network (BIRN), to which she contrbuted the article Families Pay the Price as Women Go West, subsequently winning the first prize for journalistic excellence (2009). Her works of fiction have been featured in several anthologies, including the anthology Najbolje hrvatske priče 2007 (The Best Croatian Short Stories of 2007).
The CEI Fellowship Committee:
"The prose of Maja Hrgović represents a new and efficient voice on the Croatian literary scene. Her style that is probably a consequence of her journalistic experience is topped by a theme of women with complicated and complex personalities.
She writes about modern women, who are decisive, intelligent and marked by their social role, the latter often going away from the traditional one and into different domains of men. Precisely this crossing of borders is the second main theme of her prose, which has been much appreciated by her audience and is dealt with a great thoroughness.
This mixture of features marks the project that was awarded this year's scholarship. It is a story of contemporary female migrants who will change the image of the world and its culture as we know it."