The CEI Fellowship for Writers in Residence is a newly established award presented by the Central European Initiative in collaboration with the Slovene Writers' Association as part of the Vilenica Festival. The Fellowship seeks to encourage cross-border cooperation and promotion in the field of literature for young writers from Central European Initiative member states that are not members of the European Union. The Fellowship, which is endowed with a cash award of 5,000 EUR, is intended to be used for a three-month residence in any CEI member state of the candidate's choice. During this period, the author will work on the project he or she indicated in the application form.

The recipient of the CEI Fellowship for Writers in Residence 2008 is
IVANA SAJKO from Croatia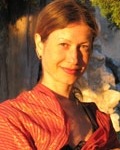 Ivana Sajko was born in 1975 in Zagreb. She is active as a playwright, director, theatre theoretician and author of radio productions and multimedia projects. Furthermore, she is the dramaturge and guest lecturer at the Academy of Dramatic Arts in Zagreb. The theatre ensemble BAD co. was partly her brainchild. In addition she is also a member of the editorial board of Frakcija – performing arts magazine. She performs and directs her own texts experimenting with interdisciplinary approaches to the problems of drama writing and performing. Her books include a collection of plays Smaknuta lica (Executed Faces, 2001), trilogy of monologues Žena bomba (Woman-bomb, 2004), novel Rio bar (2006) and theory book Prema ludilu (i revoluciji) (Towards Madness (and Revolution), 2006). Ivana Sajko, a three time winner of the Croatian Marin Držić national award, has also been honoured by the Sfera award, the Croatian Theatre award and the Vjesnik award for the novel Rio bar.
The CEI Fellowship Committee:
»One of the most interesting representatives of Croatian prose, Ivana Sajko, writes stories and essays; she is also very active in theatre (performance, dance). She graduated at the theatre academy in Zagreb where she is currently working as visiting professor. She has published many theatre plays, a novel (awarded with the Vjesnik prize) and a theoretical essay. Her project is inspired by antique subject matter – Nero, the fire of Rome, the decline of Troy, the historian Suetonius – nevertheless, the past and present interlace in the depiction of chaos, which marked completely different political and social conflicts in Seattle, Genoa, Paris and Marseille. The narrative units form a circle, which in its own turn forms a polyphonic, dialectic and ideological novel.«