Slovene Author in Focus 2011: Drago Jančar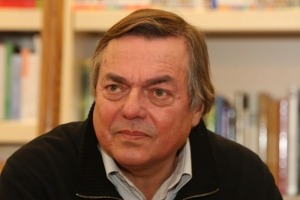 Drago Jančar, born in Maribor, Slovenia, 1948, is the best-known Slovenian writer at home and abroad. He studied Law, worked as journalist, editor and free-lance writer. In time of communist regime he was sentenced for "enemy propaganda". In l985, he stayed in the USA as a Fulbright fellow, in l988 in Germany. As a President of the Slovenian PEN Center  l987-91 he was engaged in rise of democracy in Slovenia and Yugoslavia.  Slovenia's most prominent author has been described as "the seismologist of a chaotic history". His novels and short stories has been translated and published in many European languages and in USA,  his dramas have also seen a number of foreign productions. In l993, he won the Preseren Prize, the highest Slovenian literary award. In 1994, in Arnsberg, Germany he wins the European Short Story Award. In 2003 he was awarded with Herder Prize for literature. Jean Améry Preis for Essays, Frankfurt Bookfair 2007. Premio Hemingway, Lignano, Italy 2009. Premio Mediteraneo for Italian translation of the novel Northern Lights, Cosenza 2009. Now he lives in Ljubljana.
Foto © Igor Modic
Major works
Novels: The Galley Slave, 1978,  Northern Lights, 1984, Mocking Desire, 1994,  Katarina, the Peacock and the Jesuit, 2000, The Builder, 2007, The Nameless Tree, 2009, I Saw Her, That Night, 2010.
Books of short-stories: The Pale Sinner, 1978, Death at Mary of the Snows, 1985, The Look of an Angel, 1992, The Man Who Looked into a Tarn, 2006, Joyce's Pupil, 2008.
Essays: Brioni, 2002; Terra Incognita, 1989; The Broken Pot, 1993, Memories on Yugoslavia, 1991;Disputation Adam Michnik- Drago Jancar, 1993. Fleshpots of Egypt, 1995; A Short Report from a Long Besieged City, 1996,  The Soul of Europe, 2006.
Plays: Professor Arnoz and His Followers,  l982; The Great Brilliant Waltz, 1985, Stakeout on Godot, 1987, Daedalus, 1988, Hallstatt, 1994, Light Cavalry, 2007, Silently Strikes a Clock, 2009.
"Jancar writes powerful, complex stories with an unostentatious assurance, and has a gravity which makes the tricks  of more self-consciously modern writers look cheap

[…] Whether they are psychological studies or parables,  Jancar reports these episodes with a fine structural balance and, though at times clearly conversing with his literary antecedents, he wears his reading lightly […] Throughout his stories, Jancar examines the nature of witness, personal, historical and authorial. In 'A Tale About Eyes', an extraordinary documentary mystery of the type at which he excels, he notes that one of his characters 'is a writer, and his truth is different'. If only from preventing this knowledge from reducing the universality of his own vision, Drago Jancar deserves the wider readership that these translations should gain him."

Micha Lazarus, Times Literary Supplement, London

"[A] stunning collection of short stories by Drago Jancar entitled Joyce's Pupil, which I loved. Jancar writes ambitious, enjoyable and page turning fictions, which belie the precision of their execution."
Time Out, London (March 29 – April 5 2006)

"These elegant, elliptical stories indicate that we are condemned to repeat violent events from history, while hinting that telling and retelling them is the only way to comprehend and move beyond them."
Matthew Casey FT Magazine, April 8/9

"His powerful and arresting narratives leave the reader in no doubt as to the fragility of the human condition when placed under the stress of political, historical and ethnic conflict."
Clover Stroud, Sunday Telegraph, April 23rd

"Drago Jancar's new book, Joyce's Pupil, is a selection of his finest stories, collected in English for the first time. Characterised by a desire to observe objects, individuals and situations from new angles, each story centres on a snippet of history – a show trial; a bowl of eyeballs; a group of lost soldiers, Jancar creates a fictional atmosphere that explores the relationship of individual characters to their situation.
Fusion Magazine, 16.05.06