Vilenica Prize Winner 2005: Ilma Rakusa
A short biography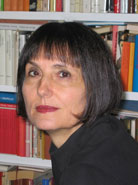 She was born on 2nd January in 1946 in Rimavská Sobota in Slovakia. Her mother was Hungarian and her father was Slovenian. A poetess and a prose writer, a translator and a culture columnist (Neue Zürcher Zeitung, Die Zeit etc.).
Her childhood was spent in Budapest, Ljubljana and Trieste. In 1951 she moved to Zürich where she went to school. She studied Slavic and Romance studies in Zürich, Paris and Leningrad. In 1971 she received her Ph.D. with the thesis On the Motif of Loneliness in the Russian Literature. From 1971 to 1977 she was Assistant Professor at the Institute for Slavic Studies of the University in Zürich, with which she keeps on collaborating. Poetry lectureships at the University of Graz (1993), of Kiel (2003) and of Dresden (2005). In 1996 she was admitted to the German Academy for Language and Literature in Darmstadt. In 2000 she participated in the first German-Arab meeting of poets in Sanai (Yemen). In 2001 she was hosted by the Foundation for Culture Landis & Gyr in Berlin, and from 2003 to 2005 she participated as a juror on the »Days of German Speaking Literature« in Klagenfurt (the former literary competition for the Ingeborg Bachmann prize).
Prizes and awards (a selection):
1987 the Ring of Hieronymus by the Association of German Translators
1991 the Petrarca Prize for translating
1995 Writer-in-Residence at the Max-Kade Institut University of Southern California Los Angeles
1998 the Leipzig Literary Award for European Interaction
2001 the Adelbert-von-Chamisso Prize. The Pro Cultura Hungarica Prize.
2004 the Johann Jakob Bodmer Prize by the City of Zürich
Work
1977 Like Winter. Poems. Wie Winter. Gedichte. Zürich: Edition Howeg.
1980 Sinai. A book of paintings and texts. Sinai. Ein Bild-Text-Buch. Zürich: Edition Howeg.
1982 The Island. A Tale. Die Insel. Erzählung. Frankfurt a.M.: Suhrkamp Verlag.
1986 Miramar. Tales. Miramar. Erzählungen. Frankfurt a.M.: Suhrkamp Verlag.
1990 A Steppe. Tales. Steppe. Erzählungen. Frankfurt a.M.: Suhrkamp Verlag.
1990 Life. Fifteen acronyms. Leben. Fünfzehn Akronyme. Zürich: Edition Howeg.
1992 Words/Deaths. Les mots/morts. Zürich: Edition Howeg.
1993 Jim. Seven short dramatic pieces. Jim. Sieben Dramolette. Frankfurt a.M.: Suhrkamp Verlag.
1994 A Colour Band and A Marginal Figure. Lectures on poetics. Farbband und Randfigur. Vorlesungen zur Poetik. Graz: Literaturverlag Droschl.
1997 A Line Across Everything. Ninety nine-line stanzas. Ein Strich durch alles. Neunzig Neunzeiler. Frankfurt a.M.: Suhrkamp verlag.
2001 Love after Love. Eight song-echoes. Acht Abgesänge. Frankfurt a.M.: Suhrkamp verlag.
2003 About Heretics and Classics. Roaming the Russian literature. Von Ketzern und Klassikern. Streifzüge durch die russische Literatur. Frankfurt a.M.: Suhrkamp Verlag.
2005 Slow Down! Against Panting, Accelerating and Other Demands. Langsamer! Gegen Atemlosigkeit, Akzeleration und andere Zumutungen. Graz: Literaturverlag Droschl.
Translations
From French: Marguerite Duras (Summer 1980; A Lover; Everyday Life; Summer Evening at Half Past Ten)
From Russian: Marina Tsvetayeva (Mother and Music; A Phoenix; Written in Fire (life in letters). Anton Chekhov (A Seagull), Alexis Remizov etc.
From SerboCroatian: Danilo Kish (Boris Davidovich's Tomb; An Hourglass; A Homeless)
From Hungarian: Imre Kertész (I – Somebody Else) and Péter Nádas (plays).
Editing
Editor of several books (the poems of Marina Tsvetayeva, Anna Achmatova and Joseph Brodsky; Danilo Kish's essays; the material on the life and work of Marguerite Duras etc.).
Coediting (with Ursula Keller) the essays entitled: Europe Writes. What is European in European Literatures? Essays from 33 European countries. (2003) Europa schreibt. Was is das Europäische an den Literaturen Europas? Essays aus 33 europäischen Ländern.
Literary publications in magazines and anthologies
Since 1979 she has been contributing to many European literary magazines (e.g. Drehpunkt, Rowohlt Literaturmagazin, Schreibheft, Zeitschrift für Literatur, manuskripte, die horen, ndl, Lichtungen and many others) and numerous anthologies.
Essays and articles (a selection)
a) Essays and articles on different themes
A Woman and Literature – wondering about a woman's aesthetics.«Frau und Literatur – Fragestellungen zu einer weiblichen Ästhetik.« In: Frau – Realität und Utopie. Herausgegeben von Christa Köppel und Ruth Sommerauer. Zürich: Verlag der Fachvereine 1984, p. 273-296.
Central European Diversity. Observations about recent Slovenian prose. »Mitteleuropäische Vielfalt. Streiflichter auf die neuere slowenische Erzählprosa«. In: Neue Zürcher Zeitung, 9./10. August 1986, p. 66.
Everything, Everything a Part of Nothing. A stain on the map of Europe – an unusual anthology of East European poetry. »Alles, alles ein Teil des Nichts. Auf der Karte Europas ein Fleck – eine ungewöhnliche Anthologie osteuropäischer Lyrik«. In: Die Zeit, Nr. 15, 3. April 1992, p. 79.
There Are Literatures Here As Well. (Balkan. A European disaster). »Hier sind auch Literaturen«. In: du, Nr. 5, Mai 1993 (Balkan. Ein europäisches Disaster), p. 25-26.
What's Up in the Land of Poets? Hungarian poetry today. »Was gibt es Neues im Land der Dichter? Ungarische Lyrik heute«. In: Neue Zürcher Zeitung, 9./10. Oktober 1999, p. 87.
Searching Places. Slovenian Readings. »Ortssuche. Slowenische Lektüren«. In: Neue Zürcher Zeitung, 5./6. Februar 2000, p. 80.
The Alphabet of Silence. Poetic discoveries from East-Central Europe. »Alphabete der Stille. Lyrische Entdeckungen aus Ostmitteleuropa«. In: Neue Zürcher Zeitung, 1. November 2001, p. 63.
Why Are We in Sarajevo? Literary and other meetings. »'Warum sind wir in Sarajewo?' Literarische und andere Begegnungen«. In: Neue Zürcher Zeitung, 26./27. Oktober 2002, p. 61.
My Language. »Meine Sprache«. In: Mein Paradies und andere Orte der Begegnungen. Herausgegeben von Klaus Amann und Fabjan Hafner. Graz: Verlag Styria 2003, p. 97-104.
No More Border Fears. A plead for a dynamic cultural exchange. »Keine Grenzängste mehr. Ein Plädoyer für den dynamischen Kulturaustausch«. In: St. Galler Tagblatt, 5. Juni 2004, p.29.
b) Essays and articles on authors
Numerous articles and forewords on Russian authors (F.M.Dostoyevsky, L.N.Tolstoy, Anton Chekhov, Alexis Remizov, Michail Prishvin, Yelena Guro, Anna Achmatova, Marina Tsvetayeva, Yevgeny Zamyatin, Andrey Platonov, Michail Bulgakov, Boris Pasternak, Osip Mandelstam, Daniil Harms, Andrey Beli, Andrey Bitov, Joseph Brodsky, Genady Aygi, Sasha Sokolov), French authors ( George Sand, Marguerite Duras), German authors (Brigitte Kronauer), Hungarian authors (Péter Nádas, Imre Kertész, Péter Esterházy), Bosnian authors (Ivo Andrić), Serbian authors (Danilo Kish, Alexander Tishma, Milorad Pavić, Milosh Crnyansky), Croatian authors (Miroslav Krleža, Dubravka Ugrešić) and Slovenian authors, e.g.
– about German translations of Lipuš's novels The Mistakes of Student Tjaž and Barren Wormwood;
– about Jančar's Aurora Borealis and about the translations of his essays;
– about Aleš Debeljak, Dane Zajc, Srečko Kosovel, Gustav Januš, Andrej Blatnik and others.
c) Slavic scientific work
Scientific articles about Marina Tsvetayeva, Anna Achmatova, Valeriya Narbikova, and about the motif of loneliness in Russian literature etc.
Her works have been translated into Slovene, English, Russian, Arab, SerboCroatian.
Photo: Simon Ingold
Vilenica Prize Winner 2005: Karl-Markus Gauß
A short biography
H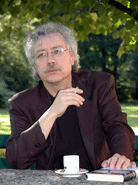 e was born on 14th May in 1954 in Salzburg as the youngest of the four children to the Danubian-Swabian parents, who came from Vojvodina. He lives and works in Salzburg. He studied History and Germanic Studies from 1972 to 1979. Then he worked as a freelance critic and writer. Since 1991 he has been a publisher and an editor of a magazine »Literatur und Kritik«. He regularly writes for newspapers and magazines, e.g. Neue Zürcher Zeitung, Süddeutsche Zeitung, die Zeit, Wiener Presse and Der Standard. He is married and has two children.
Among other acknowledgements for his work he received in 1997 the European essay prize Charles Veillon and in 2001 he received the Honorary prize of Austrian booksellers for tolerance.
His books have been translated into 14 languages.
Bibliography (a selection):
1989 Ink Is Bitter. Literary portraits from Barbaropa. Tinte is Bitter. Literarische Porträts aus Barbaropa. (The Wieser Publishing House.)
1991 The Destruction of Central Europe. Die Vernichtung Mitteleuropas. (The Wieser Publishing House.)
1997 The European Alphabet. Das Europäische alphabet. (Zsolnay Vverlag.)
1998 Into Undiscovered Austria. Reactions and attacks. Ins Unentdeckte Österreich. Nachrufe und Attacken. (Zsolnay Verlag.)
1999 The Man Who Wanted to Go into the Freezer. Der Mann, der ins Gefrierfach wollte. (Zsolnay verlag.)
2001 The Europeans About to Become Extinct. Die sterbenden Europäer. (Zsolnay Verlag.)
2002 With Me, Without Me. Mit mir, ohne mich. (Zsolnay Verleg.)
2003 From Near, From Far. Von nah, von fern. (Zsolnay Verlag.)
2004 Dog Eaters from Svinia. Die Hundeesser von Svinia. (Zsolnay Verlag.)
2005 Pub Discussions in the Expanding Zone. Wirtshausgespräche in der Erweiterungszone. (Otto Müller-Verlag.)
2005 The Widely Spread Germans. Die versprengten Deutschen. (to be published in September at Zsolnay Verlag.)
Literary prizes (a selection)
1989 The Portorož International Prize »Writers' Meeting at the Border«
1994 The Austrian State Prize for culture journalism
1997 The European Essay Prize Charles Veillon
1998 The Bruno Kreiski Prize for a political book
1999 The Salzburg Economy Prize
2001 The Honorary Prize of the Austrian booksellers for tolerance.