Publications of the Vilenica festival
Amanairis: Anthology of Contemporary Irish-Language Literature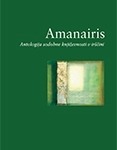 The second book of the series Vilenica Anthologies published by the Slovene Writers' Association is dedicated to contemporary Literature in Irish. The editor of the anthology Tina Mahkota, in collaboration with poet and translator Gabriel Rosenstock, has selected 17 authors including prose wroters: Micheál Ó Conghaile, Seán Mac Mathúna, Dara Ó Conaola, Pádraic Breathnach, Alan Titley, Daithí Ó Muirí and poets: Nuala Ní Dhomhnaill, Cathal Ó Searcaigh, Gabriel Rosenstock, Biddy Jenkinson, Celia de Fréine, Louis de Paor, Gearóid Mac Lochlainn, Colm Breathnach, Tomás Mac Síomóin, Paddy Bushe, Dairena Ní Chinnéide. The author of the foreword is Tomás Mac Síomóin. The excerpts have been translated by Nada Grošelj, Lučka Jenčič, Tina Mahkota, Uroš Mozetič, Ifigenija Simonovič and Andrej Stopar.
Programme booklet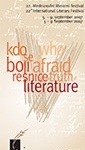 The booklet is intended as a handy collection of information on the programme and the Vilenica guests. In addition, it may serve as a useful collection of data and contacts for cooperation between authors on the one hand and editors, publishers, translators and cultural managers on the other.

/ Programska knjižica 2007, prenos 

[PDF 3,31Mb]  /

The Vilenica Almanac features extracts from works of Vilenica guests coming from Central Europe in the original, the Slovene language and translated into English or German. The Almanac was edited by Miljana Cunta, Barbara Šubert in Tanja Petrič.

/ Zbornika Vilenica 2007, prenos  [PDF 4,50Mb]  /

Vilenica Series in collaboration with Cankarjeva Publishing House
Cankarjeva Publishing House will publish a book by Vilenica 2006 Prize Winner Miodrag Pavlović, translated by Veno Taufer.

Collection of essays of the CEI Round-Table Discussion
The essays of the CEI Round-Table Discussion will be issued as a special publication.